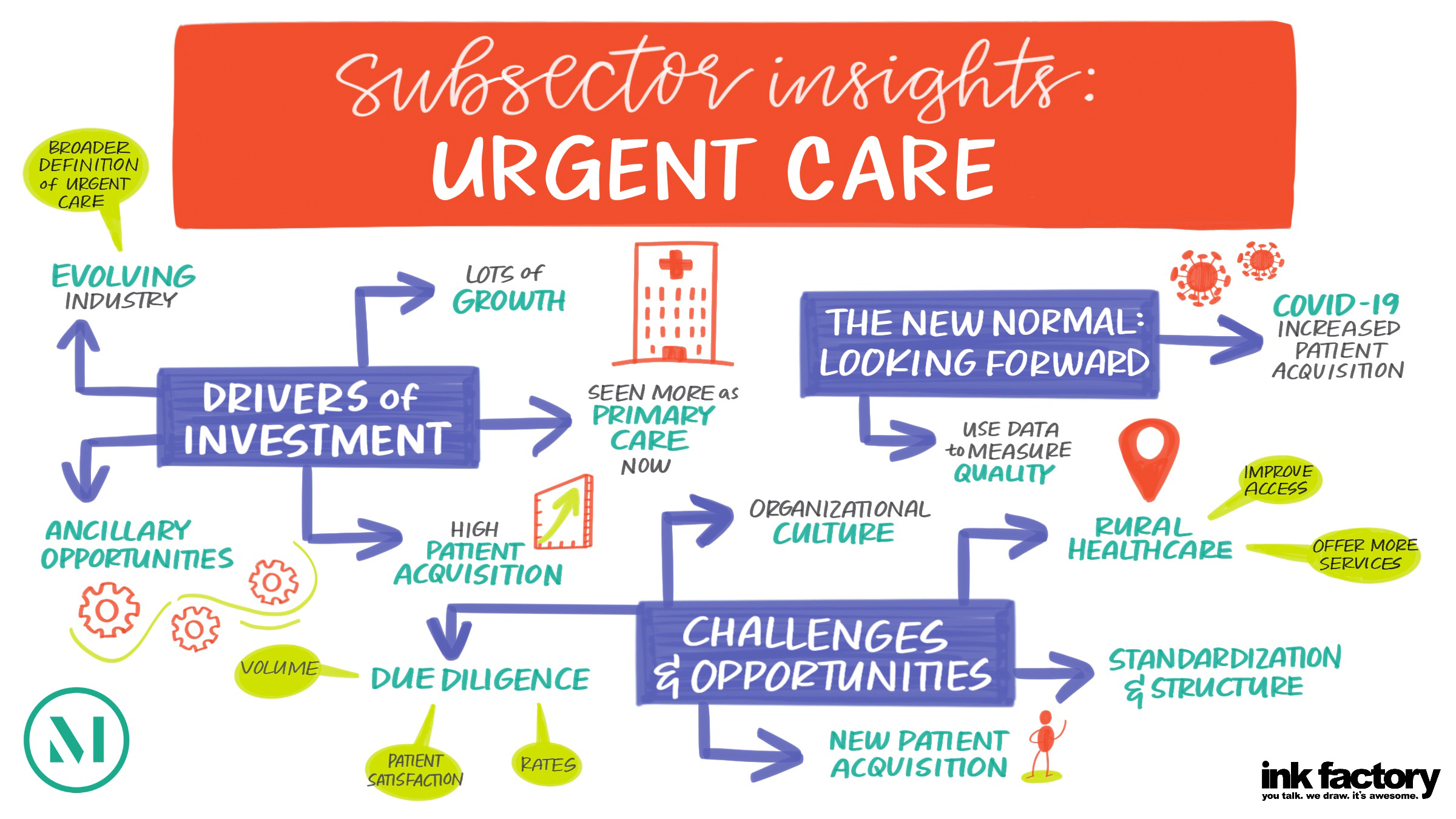 Greg Metz, co-head of McDermott's Private Equity Practice Group, joined Simon Bachleda, co-founder and managing partner at Revelstoke Capital Partners; Richard Park, MD, founding chief executive officer of CityMD and co-founder of Ascend Partners; and John Randazzo, senior advisor, Warburg Pincus, to discuss how urgent care practices are expanding their service offerings and driving value.
Access the PDF here.
In recent years, the service offerings available at urgent care centers have expanded beyond traditional "urgent care" into several ancillary services. "Historically, urgent care was for urgent needs, such as flu or strep or strains," Bachleda said. "Now it has evolved to much more than just urgent, into primary care and ultimately even into multispecialty. A lot of ancillary services now can be offered seamlessly within the confines of the four walls of an urgent care center." These include orthopedic services, and behavioral and mental health services. "As needs continue to evolve, urgent care is one of the most flexible areas of this market that is able to change with the times," Randazzo noted.
For urgent care practices, successful growth hinges upon standardizing the patient experience and developing a brand name with which patients are familiar and comfortable. "Making sure that patients know who we are and know what type of experience to expect in one of our clinics . . . creates a little bit of barrier against smaller competition that could come up," Bachleda said.
The COVID-19 pandemic initially drove down patient volumes at urgent care centers, like many other healthcare sectors. But unlike other types of retail health clinics, urgent care saw strong growth during 2020, even as some of its typical drivers were absent. "Historically, urgent care has relied on flu in in terms of driving volumes," Bachleda said. "We're seeing almost none of that, yet volumes are still overall high, and that's largely due to COVID-19 testing."
COVID-19 testing and treatment exposed urgent care centers to an entirely new patient base, which should continue to drive growth in the sector going forward. "More than 50% of our patients [in 2020] were brand new," Park said. "We do expect lasting stickiness from those visits across the industry."
The Biden administration's anticipated regulations and policies will impact urgent care centers. Expansion of the Affordable Care Act could add patients not currently aligned with primary care providers to the market. "That's going to be a big market opportunity for urgent care," Randazzo said. "The urgent care area can come up with a combination of a reimbursement model that works for urgent care that the typical primary care doctor multispecialty group would have had a much more difficult time addressing."
When conducting due diligence in the urgent care space, investors should review patient satisfaction and new patient acquisition. "Unlike many other sectors where you're always chasing the referral, urgent care is an acquisition engine of patients coming in through the door," Bachleda said. "Because this is a retail product and service at the end of the day, if those patients aren't happy, that's a pretty difficult thing to fix in healthcare." Culture and physician fit is another important factor to consider in due diligence, particularly in larger acquisitions, Randazzo noted.
To catch up on all of the sessions from the HPE Miami 2021 Conference, please click here.