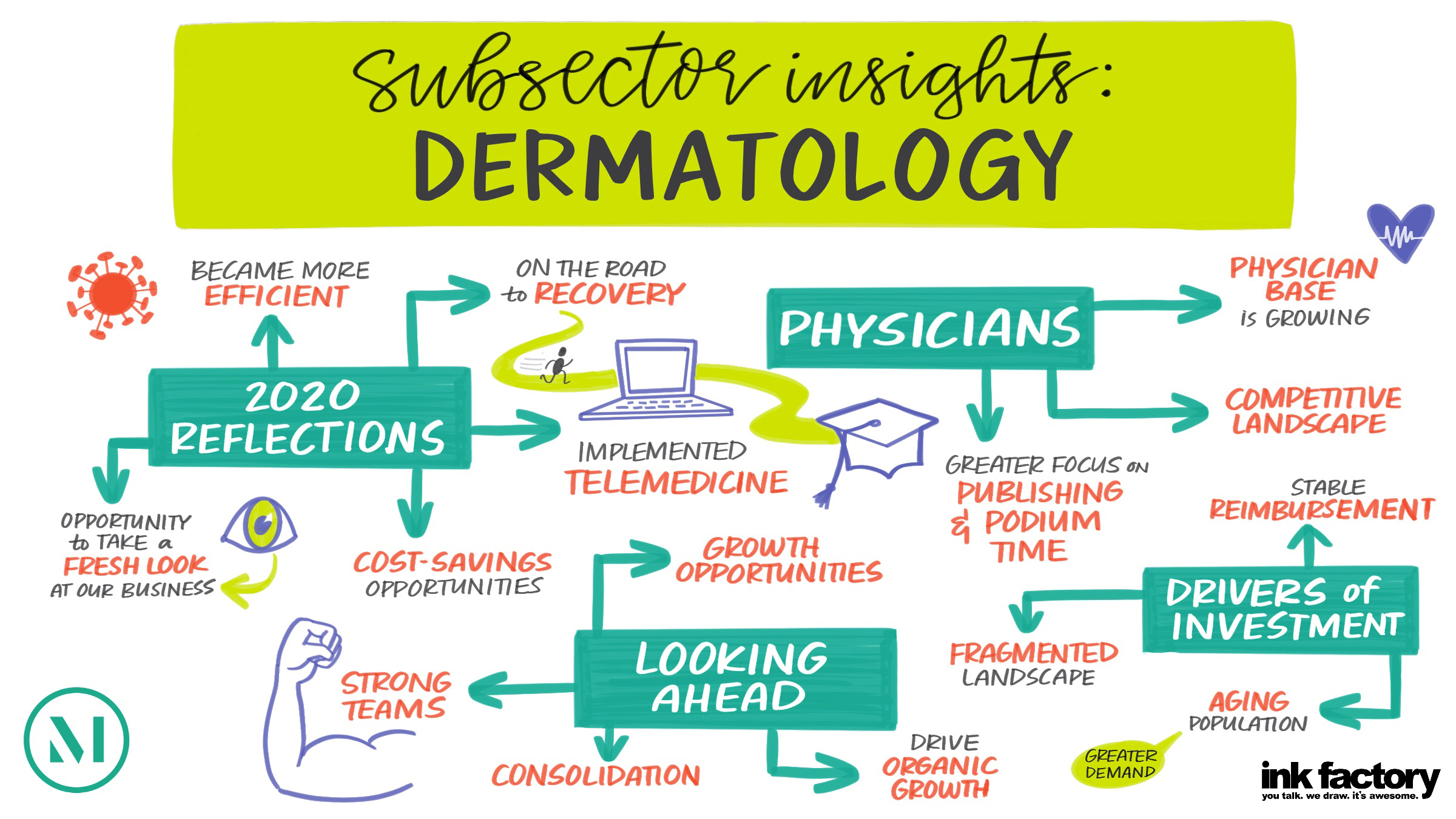 In this panel, Matt Leavitt, DO, founder and executive chairman of Advanced Dermatology & Cosmetic Surgery; Scott Bremen, chief executive officer of Forefront Dermatology; and Daniel Florian, managing director at Sun Capital Partners, discussed the impact of COVID-19 on the dermatology industry and the sector's evolving future. McDermott partner Jason Caron moderated this insightful discussion.
Access the PDF here.
The COVID-19 pandemic has given industry leaders an opportunity to take a fresh look at their businesses and focus on streamlining operations and improving their organization. Businesses have been able to focus on safety for their patients and employees, and to improve the efficiency of internal processes through the use of novel technology. "Telemedicine is not a short term band-aid, but a long term tool to enhance the patient experience," Florian said. Despite the pandemic's challenges, the public health emergency highlighted the value of communication among a strong and passionate group of providers dedicated to providing care in a safe environment.
Demand for essential dermatological services throughout the pandemic proved to be robust and resilient. Thanks in part to increasing patient knowledge and interest in both the medical and cosmetic side of dermatology, this is a time of growth. "With the aging baby boomers and the size of that population in combination with anti-aging and wellness, when you take the medical foundation piece and put the cosmetic piece on top of it, it's a phenomenal engine with great growth dynamic," Bremen said. In addition to organic growth from growing patient interest overall, the demographics are shifting to a more gender-balanced patient population. The pandemic also increased opportunity for M&A activity in the dermatology space, where other providers have looked to private-equity-held platforms as leaders through the public health crisis. "The macro trend of an aging population has driven the demand," Florian said. "We have organic growth. We have a stable outlook. We want to do well by doing good. It's a great place to invest."
Practices are evaluating the best way to contribute to the body of knowledge in dermatology and to create safe patient care. Many are focusing on bringing in the next generation of residents. "There is a growing need for dermatologists," Leavitt said. "I think it is critical in private equity that we reach the fellows early on. . . . We can take away the headaches from the practitioners and let them focus on the patient." There is also a growing base of board-certified physicians (MDs and DOs), plus introduction of physician assistants and nurse practitioners, and strong practices will be seeking to attract these providers. Potential draws for young professionals include research, publishing and presentation opportunities; geography; and the use of advanced technology to drive patient-centric care.
To catch up on all of the sessions from the HPE Miami 2021 Conference, please click here.