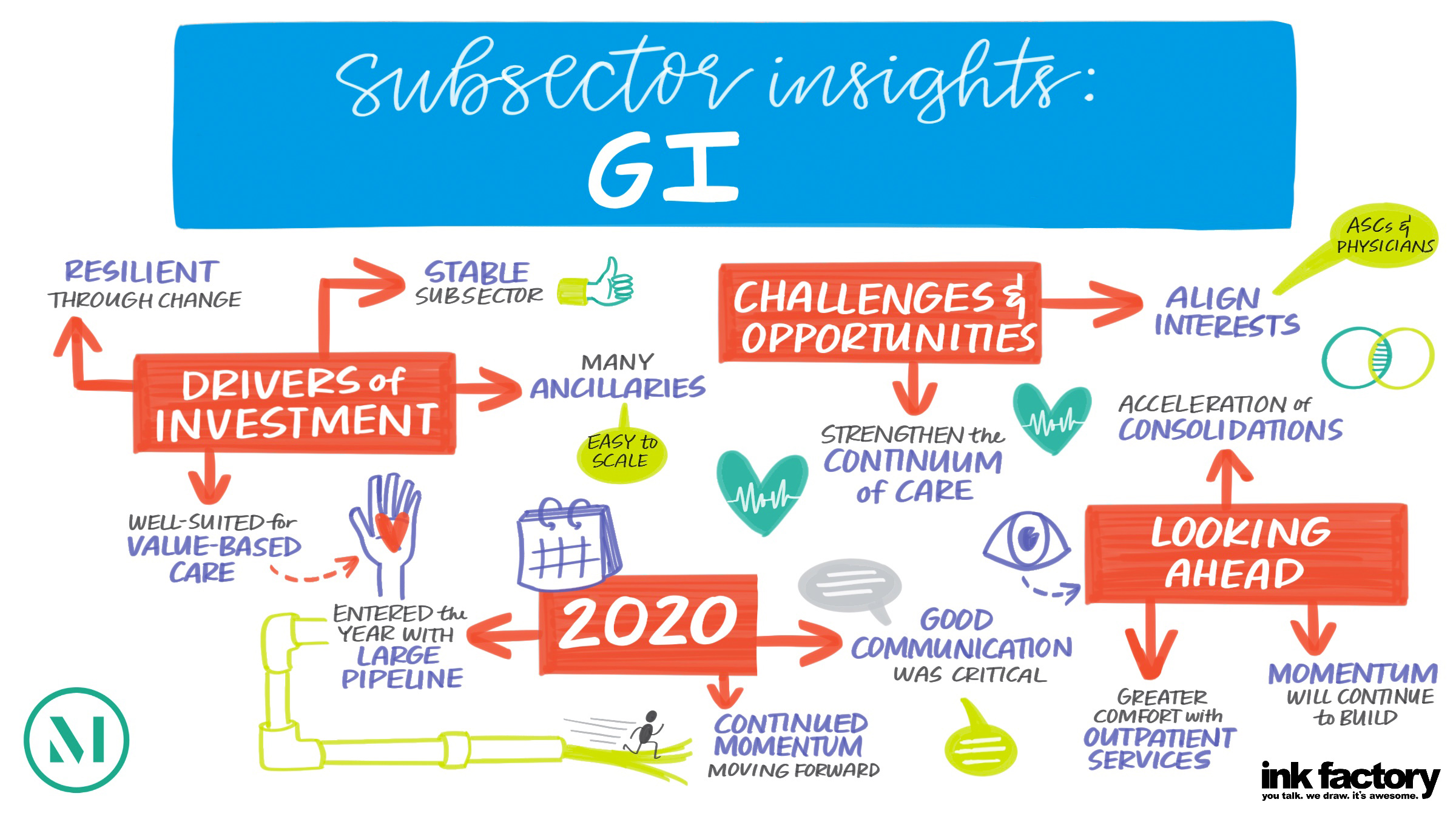 The past year saw robust deal activity focused on gastrointestinal (GI) practices, and the sector will remain an attractive target for private equity sponsors in 2021. McDermott partner Amanda Jester moderated this panel featuring Gabriel Luft, principal at Amulet Capital; Hugh McBride, principal at Kelso; Jason Porter, managing director at Baird; and James Weber, MD, chief executive officer at GI Alliance.
Access the PDF here.
GI continues to be a popular PE investment. As a specialty, GI has proven to be stable and resistant to market changes, even amid economic and political shifts. GI groups also have the potential to provide ancillary services in-house, such as infusion, anesthesiology and pathology, which can increase their profitability and efficiency of care.
The ability to scale has become increasingly important as GI groups contract with payors and health systems. GI lends itself well to scale, given the lower costs of operation and the ability to add ancillary services that can also be scaled. This ability to scale will likely continue to grow the value of GI businesses as we transition to value-based care.
GI practices benefit greatly from the ability to perform procedures in outpatient facilities. Many GI groups now have their own, or are partnering with, ambulatory surgery centers to improve their quality of care and reduce costs—to the benefit of patients, doctors and payors alike.
The coming year will likely see continued activity in the consolidation of GI practices, as the COVID-19 pandemic has demonstrated the value that practice management groups and partners can bring to the table. This may also be the year in which we see consolidation of existing platforms.
To catch up on all of the sessions from the HPE Miami 2021 Conference, please click here.