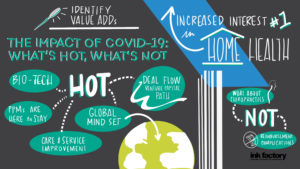 In the wake of COVID-19 some health sectors have emerged as hot while others are troubled. Our panel of active investors discussed where the dollars are going and offered insights on why in relation to the events of 2020. McDermott partner Jerry Sokol moderated this dynamic panel featuring Paige Daly, partner at Harvest Partners; Chris Gordon, global head of healthcare and co-head of North America private equity at Bain Capital; Geoff Lieberthal, partner at Two Sigma Impact; and Rob Wolfson, executive managing director and head of H.I.G. Advantage Fund and U.S. Healthcare.
Below are the top takeaways for HPE New York 2020 half day session: The Impact of COVID-19: What's Hot, What's Not, click here to access the full webinar.
Access the PDF here.
COVID-19 has revealed weaknesses in the healthcare system and in healthcare delivery in particular. "One of the most fundamental things that we as healthcare investors all should be thinking about is investing in businesses that are making things better for the entire system—for patients, for providers and for payors," Ms. Daly said. "That means we should be both raising quality and lowering costs." These principles are driving some of the most exciting innovation today, particularly in payor services, physician practice management (PPM) and healthcare IT.
Healthcare IT generally and telemedicine specifically are areas of major investment. Dramatically accelerated patient and payor adoption of telehealth has created [...]

Continue Reading
---