Physician practice management (PPM) and ambulatory surgery center (ASC) companies continue to attract tremendous attention of private equity investors and continue to play a key and growing role in the healthcare services sector.
In advance of our 2018 Physician Practice Management & ASC Symposium, I wanted to get a better sense of where the industry stands and how best to navigate it in 2018, so I reached out to four recognized experts on the matter:
Andrew, Barry, Wayne and Marc will all be speaking at McDermott Will & Emery's 2018 Physician Practice Management & ASC Symposium, taking place in Nashville, TN, on April 25 – 26. Andrew will be speaking about smart investment principles and private equity as part of the "What the Money Thinks" panel; Barry and Wayne will join our "State of the ASC Industry" panel to discuss the strategies driving today's practices; and Marc will discuss PPM/ASC transaction strategies in the "Preparing a Large Practice for Sale" panel. Here's a preview of what's on their minds.
Q. Why does private equity investment continue to flow into the PPM and ASC sectors today?
AK: ASC, in particular, is on the right side of the health care quality and cost equation, with the added benefit of aligning the interest of patients, physicians and payors. As the ASC industry remains largely unconsolidated, opportunities are available to back compelling teams as they build and scale platforms, which will benefit from attractive organic growth and – potentially down the road – strategic value, if scale is achieved.
The sources of interest in the PPM space is more varied. At times and in certain situations, PPM investments have similar motivations as ASC investments, with the added benefit of assisting physicians in dealing with an increasingly complex reimbursement and compliance environment. We like and pursue these opportunities. At other times, investments are predominantly about achieving leverage over payors and/or hospital providers. While this might be a valid strategy, the long-term value is potentially less durable.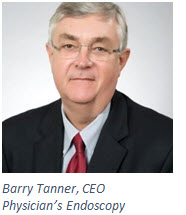 Q. Having founded Physicians Endoscopy in 1999, what is the most significant shift that you have seen in the ASC industry in the past 20 years?
BT: There have been so many changes in the ASC industry since Physicians Endoscopy was founded back in 1998 that it is really hard to identify one as being the most significant.
Twenty years ago, ASCs were more of a novelty within the broader health care delivery system, whereas today, ASCs hold, what I believe to be, a very prominent position within the health care delivery system. There are over 6,000 Medicare-certified ASCs today, and those facilities are delivering high-quality care at a great price point. ASCs today are widely recognized not as experiments, but as high-quality, valuable parts of the health care delivery system that hold the potential to deliver great patient care at a price that is nearly half the cost of the same care from a hospital outpatient department.
The other major change is that ASCs today play a prominent role in helping sustain the independent practice of medicine for many physicians. In specialties such as gastroenterology, for example, professional fees for performing many procedures have decreased 60 percent or more over the past 20 years. The ability to own and participate in the success and value proposition that ASCs offer has helped physicians maintain their independence by helping to sustain their medical practice income.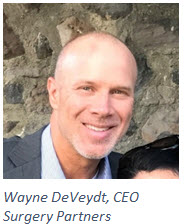 Q. What are the biggest growth opportunities for ASCs in the next 2-5 years?
WD: The rapid consolidation of what continues to be a fragmented industry, coupled with advances in technology and safety standards resulting in an accelerated shift from in-patient to out-patient settings, creates the most significant growth opportunity over the next 3-5 years. These dynamics, matched with the rapid vertical integration we are beginning to see in more recently announced health care deals, only further emphasizes the importance of ASCs in the health care ecosystem.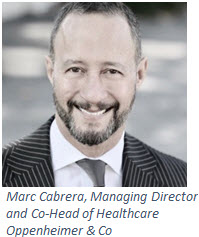 Q. What is one of the most-common missteps you see when a practice is being sold?
MC: A significant misstep that I have seen play out with disastrous consequences – particularly democratic practices – is leadership proceeding with the transaction process without soliciting sufficient input from the partnership. In some cases, we have seen partners vote down a possible private equity or strategic partnership. The negative vote often wasn't even based upon the financial terms, but rather stemmed from the lack of partners' involvement in the process. We mandate that our large practice clients hold regular meetings and calls with their partners to provide periodic updates on ongoing deals.
We hope you'll join us to hear first-hand from these and other industry leaders on the changing environments and strategic and legal imperatives for investment success in 2018. To explore the other topics that will be discussed at the event, we welcome you to look at the symposium agenda.
2018 Physician Practice Management & ASC Symposium
April 25-26, 2018, Nashville, TN
Two Conferences – One Venue
Day 1 | April 25 | Opening General Session – Keynote Panels
Day 2 | April 26 | PPM-Focused Programming / ASC-Focused Programming